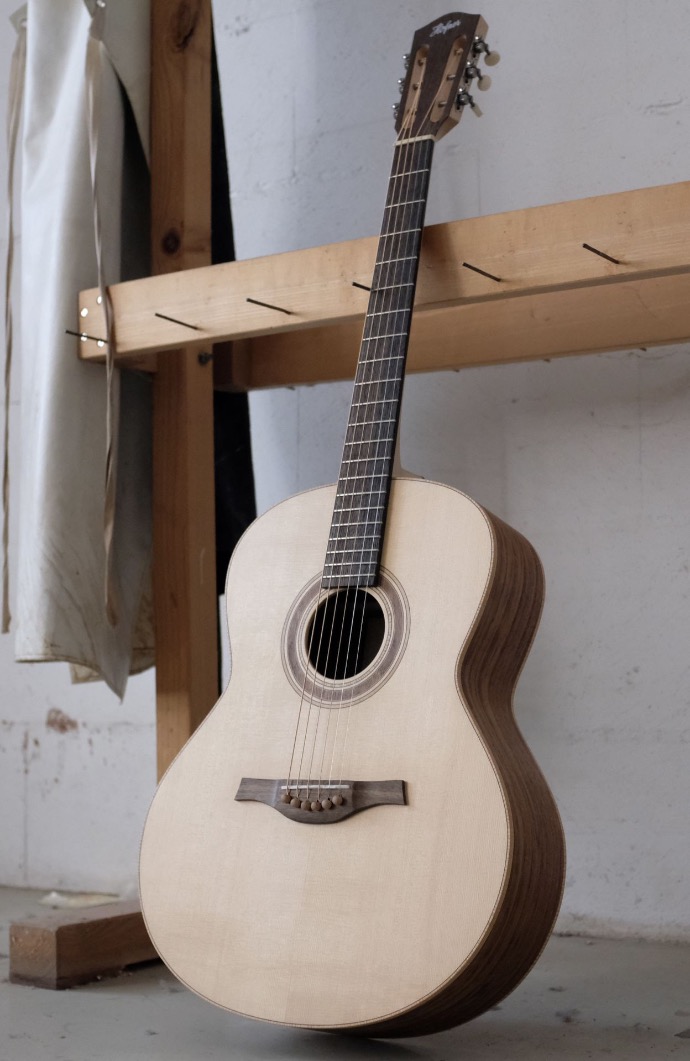 'What's the deal with Green Line ?'
About 25 years ago, we decided to take a forward-looking approach and launched the Green Line series. In the beginning we wanted to show that we are convinced that we can build equal or even better instruments out of domestic woods than out of the "traditional" exotic tonewoods like rosewood or ebony. What started back then with 2 classical guitar models, developed over many years into a serious philosophy, which has been an integral part of our product range since then. Höfner Green Line is still evolving after 25 years, constantly being refined and improved, and even today we are still gathering valuable information as we deal with this topic. Even after this long period of time, we continue to discover new and exciting woods for our acoustic, as well as electric instruments. In close cooperation with our German and Austrian wood suppliers and sawmills, we create beautiful and breathtaking sounding instruments in a wide variety of price ranges.
They are in no way inferior to "conventional" guitar making and are much more than just an alternative.
Everything starts with a careful wood selection. Thanks to years of experience, we are now able to find a European alternative for almost any of our exotic tonewoods. Rosewood or ebony for fingerboards can be excellently replaced by walnut or smoked oak. For the body, too, there are plenty of alternatives of tonewoods that have proven themselves in European guitar making for many centuries. For the binding (purfling), there is now a steadily increasing selection of suitable woods available. Most of our guitar tops are made of Alpine spruce, which we obtain from wood suppliers or sawmills in the German-speaking and European Alpine region.

Plastics can now be found not only in all corners of the world's oceans, but also in the groundwater and thus also in our drinking water. An important aspect of the Höfner Green Line philosophy is to avoid the use of unnecessary plastic components as much as possible while maintaining or even improving all essential functions of the instrument. Synthetic components such as our compensated Graphtech NuBone saddles are made without fossil oil or animal products and are not comparable to "throwaway plastic" due to their durability. They ensure optimal resonance of the strings and therefore enhance the sound characteristics of the instrument and are a superior and more sustainable alternative to ivory and bone.

---
3. Höfner Green Line Finish
For the coating of all Green Line instruments, we use the wafer-thin "Höfner Green Line Finish". It consists of natural oils and waxes, is particularly low-emission and is both saliva- and perspiration-proof, tested according to EN71/T3. The Höfner Green Line Finish provides a warm and natural play of colour to the tonewoods and protects the surface. The finish also ensures optimal playability of the neck and is open-pored and breathable. It also has a positive influence on the oscillation characteristics of the instrument. Not only in terms of sound but also haptically, it has many advantages over a conventional high-gloss finish - it furthermore is gentle on our planet and we can therefore imagine no higher-quality finish for our instruments. We now also use our Höfner Green Line Finish on various instruments outside our Green Line series.