The Campaign to Find Paul McCartney's Lost Bass

One of the most important musical instruments in the world vanished, it's widely presumed to have been stolen at sometime after early 1969, and has never been seen since.
What happened to it? Does it still exist? Where is it? The instrument is Paul McCartney's first bass guitar, a Höfner 500/1 model that he purchased in 1961.


Here is a short history of this bass and what happened:
In the spring of 1961, Paul McCartney, of the little known Liverpool r'n'r band The Beatles, became their full-time bass player.
Being left-handed, he custom ordered his first bass, a Hofner 500/1, through the Steinway shop in Hamburg, Germany during a two month residency at the Top Ten Club.
Back in England, he played all their Cavern Club gigs with his new bass, as seen on the BBC's first Beatle's footage. Hence its nickname, the Cavern Bass.
This instrument was solidly used by McCartney until October 1963 when he received a new Hofner bass from Selmer, the UK importer.
It was played on some iconic Beatles recordings including their very first studio outing in June 1961 in Hamburg, their first single Love Me Do in 1962 and their first two albums,
Please Please Me and With The Beatles in 1963. It's the one you hear on "She Loves You, "Twist and Shout", it was played in Hamburg, at The Cavern Club, at Abbey Road,
isn't that enough alone to get this bass back! I know, because I talked with him about it, that Paul would be so happy, thrilled if this bass could get back to him.


McCartney kept his first violin bass until it went missing, using it as a back-up during the Beatles' world tours and playing it again in the Revolution promo video and during the filming of Let It Be.
He cherished his first bass as stated in 1966 Beat Instrumental interview: "I have had a Hofner ever since I started. I've got 3 models but the ancient one is still my favourite.
It has seen so much work that some of it is held with sellotape!".
The bass was in need of repairs and so it was sent to a firm in London, early in 1964, who carried these out. They resprayed the bass a darker 3 part sunburst and fitted new knobs.
Most significantly they custom made an unusual single pickup frame to hold both pickups. It was very distinctive, no other 500/1 bass looks like this.


Exact McCartney '61 bass specs are as follow:
Solid spruce top

Maple back and sides

1-piece flat back

3-piece neck (maple-beech-maple)

Two Diamond logo pickups with no poles

Van Gent 'rugby balls' tuners

Long tailpiece with arched thin bar
A 1961 Hofner 500/1 bass is regarded by most players and collectors alike as the best sounding and rarest violin bass of all. It is the only 500/1 that features a carved solid spruce top and powerful humbucking pick-ups, making its tone rich and distinctive. It was in production for less than 4 months and is therefore highly sought after.
What happened? The problem is nobody knows. It seems very likely that someone stole the bass. To this day it has remained a mystery. There have been rumours over the years, but this is all they amount to: rumours.
Someone, somewhere, knows what happened to this bass and someone knows if it still exists and where it is now. This information is out there if only someone would provide it.
We strongly believe that it is time for this bass to return to its owner, Paul McCartney if it still exists. It is such an important instrument, we all deserve to see it again.
So we offer the following to anyone who can positively give information about the bass:


- We would handle any information in total confidence.
- We do not need to know your identity if you prefer.
- We can collect the bass from anywhere.
- Total anonymity.
- No recriminations.
- No question of the authorities being involved.


Please, is it not time to give this bass back? Or at the very least to tell us what happened to it? It should not remain lost forever.


If you have definite information (and can provide some proof of this) you can contact us by sending an email to:
info@thelostbass.com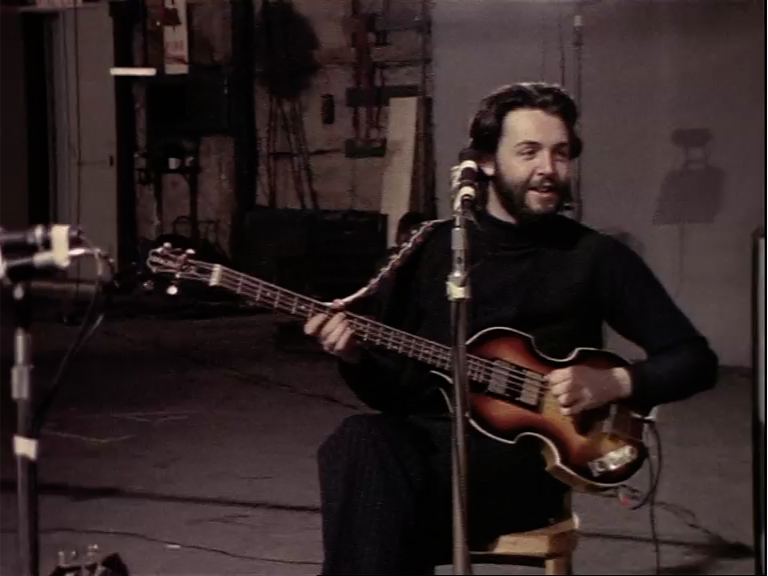 Paul McCartney playing the now lost bass in January 1969 during the Let It Be sessions.
It is briefly seen at Apple HQ, Savile Row, in Jan 1969 in the recent Get Back film and then disappears.
© Apple Films Ltd.





Nick Wass - Development & Media - Karl Höfner GmbH & Co. KG